Bookmobile Current Schedules
About the Bookmobile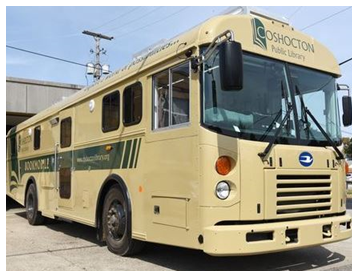 Coshocton County Library's bookmobile service started in 1952, with a 1939 Dodge purchased for $500.
The Bookmobile carries books for all ages and serves schools, communities, day cares and senior centers throughout Coshocton County. Bookmobile patrons can request materials from the SEO (Serving Every Ohioan) consortium, which serves 98 library systems at 277 physical locations.
Your first library card is free and can be used to borrow materials during Bookmobile visits. Materials can be returned at the Main Library in Coshocton, the West Lafayette Branch Library, or any other SEO consortium member library.
Bookmobile Staff
Bookmobile Manager: Kris Ringwalt
Driver/Assistant: Donna Conrad 
Driver/Assistant: Jerry Whitaker
Contact the Bookmobile 
Cell Phone: 740-502-0444 (Call or text your hold requests/questions. If there is no answer, please leave a message).
Email: kringwalt@coshoctonlibrary.org
Library Phone: 740-622-0956